Jeff Goldblum is one of the three main cast members from the original Jurassic Park trilogy that fans are most eager to see return in Jurassic World. But recently, we learned that Jeff was going to be pre-occupied with filming the Independence Day sequel. We thought this would negate his ability to get involved with Jurassic World, but in this recent interview, we're now questioning our original assumptions...


Jeff recently sat down with
TF Magazine
to discuss all kinds of topics, like ambition, aging, his new Dog and briefly,
Jurassic World
. Though the sought-after actor does not confirm his involvement in the fourth Jurassic Park film, he also doesn't
deny
the fact either. He goes on to add that regardless if he's in it or not, he will be one of the first in line to see it in theaters when it's released, June 12th, 2015. Here's the excerpt from the interview where Jeff talks specifically about Jurassic World:
He doesn't have any "major complaints" about ageing, he says, although he anticipates "the loss of one thing after another until finally everything drops off and you lose everything". He has never "felt the pressure" to have plastic surgery "and would certainly resist any such pressure. I have the strong feeling that it never works. I don't like how it makes people look. I keep my ablutions up. I enjoy the passing of the natural parade, the fall season when the leaves fall and change colour. The cycle of life is thrilling and enjoyable..." He will not confirm if he will reprise his role as Dr Ian Malcolm in Jurassic World, to be produced by Steven Spielberg and slated for a June 2015 release. "Whether I'm in it or not, I'll be first in line for a ticket," he says.
Reading his quotes suggest he will in fact be returning, but doesn't want to let the cat out of the bag yet. Not to mention his NDA might say he can't discuss his involvement yet, in case his role is only a cameo one. Either way, having Jeff Goldblum return would certainly bring a lot to the film and would also certainly make a lot of the hard core fans very happy.
Special thanks to
Kristin
for the heads up about this news. You can read the full interview with Jeff over on
TF.com
.
So, what do you think of Jeff Goldblum potentially returning in
Jurassic World
? Let us know your thoughts in the comments section below!
Tags: Jurassic World, JP4, Movie, News, Cast, Interviews, Jeff Goldblum
More Jurassic World News:
Comments (12)
Posted: Sep-29-2013 1:35 PM
Well, if this is true, it`s the greatest news so far. Can`t wait for 12 june 2015!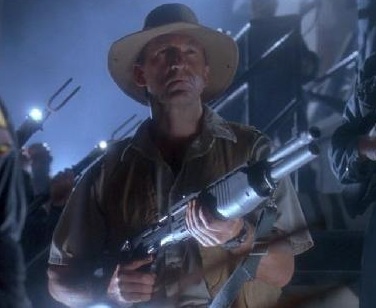 Posted: Sep-29-2013 2:07 PM
That would be awesome if he was to be in the movie.
Posted: Sep-29-2013 4:35 PM
This is really some of the best news i've heard yet other than the confirmation of the 4th film. It would be sooo awesome if he makes it into the film even for a brief cameo. I'd also like to see Sam Neill make it into the film too.
Posted: Sep-29-2013 5:31 PM
Good news, I hope he returns, Jeff Goldblum's one of my favorite actors and seeing him return as Ian Malcolm would be great.
Posted: Sep-29-2013 5:58 PM
I still don't see how they will get him to the island with out it feeling hollow, he has been chased twice already give the guy a dino break! cameo i'll be betting on like Tim and Lex in the second film. Still I will be just fine with it if it is a full return as its Jeff Goldblum right enough said.
Posted: Sep-29-2013 7:20 PM
I'd rather have Sam Neill in the film, if they absolutely have to have one of the old characters. However... J.G.'s quotes and a red-headed female lead, coupled with the title "Jurassic World".......hmmm...
Posted: Sep-29-2013 8:39 PM
Hopefully and hopefully Sam Neill can comeback too.
Posted: Sep-30-2013 12:27 PM
I'm not against him (or Neill, or Dern) coming back. I just hope that, if they do come back, they find a great, solid excuse for doing so. Otherwise, just cameo, please.
Posted: Oct-01-2013 5:55 PM
I hope Hammond returns, and Kelly, Tim, Lex, Ian and Grant would be cool too.
Posted: Oct-02-2013 12:56 AM
I can't wait to watch this movie.
Posted: Oct-03-2013 8:30 AM
This is wonderful
Posted: Oct-06-2013 5:05 AM
oh man if jeff and sam come my life would be completed! i hope jp4 will be good