Colin Trevorrow's Jurassic World is gearing up to start filming this summer and it seems film crew are already on-scene in Hawaii setting everything up for the first few shoots! According to a guest named Craig, of Kevin Smith's podcast called "Hollywood Babble-On", he was flying to Hawaii on January 19th to get things prepped for Jurassic World. He referred to his job as a "teamster", which is basically anyone helping out with production by partaking in a various number of jobs. You can listen to the reveal at around 24:45 during the podcast:
In addition to the news above, it has also come to our attention that Jurassic World is currently looking to cast co-starring and supporting roles according to Acting-Auditions.org. Casting is apparently under way in Los Angeles, Hawaii and Baton Rouge.
Production on the first Jurassic Park - will we see animatronic Dinos in Jurassic World as well?
Also, it's worth noting that Acting-Auditions has posted a short plot synopsis for the fourth Jurassic Park film, which may be accurate, and confirms Jurassic World will take place in present day, Isla Nublar! Here's the quote:
"Jurassic World will be set in present day, Isla Nublar, and will take place 22 years after the events of the first film."
Special thanks to JW.org for the news!
Be sure to check back for more, constant updates on Jurassic World as new details are released!
Tags: Jurassic World, Jurassic Park 4, JP4, Movie, News, Filming, Updates
More Jurassic World News:
Comments (8)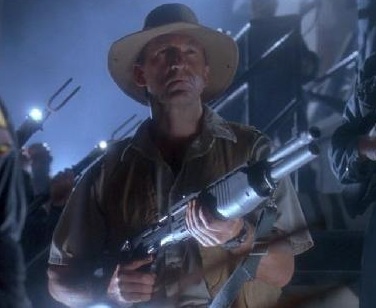 Posted: Jan-28-2014 3:53 PM
Awesome. I've been dying to see what's happened in the past 22 years on Nublar.
Posted: Jan-28-2014 3:58 PM
Posted: Jan-28-2014 5:51 PM
Finally some production news!!!
Cant wait to see when and who gets cast!
Posted: Jan-29-2014 7:06 AM
Posted: Jan-29-2014 6:35 PM
Awesome. Was hoping it would still be set in Nublar. About time we saw what's happened to it! :)
Posted: Jan-29-2014 9:28 PM
Completely agree. It's gonna be amazing to see what the islands like. But if i remember correctly, weren't the dinosaurs of Isla Nublar wiped out by the military. Or am I thinking od Isla Sorna?
Posted: Jan-29-2014 10:05 PM
dakota - in the novels it is stated that Isla Nublar was bombed to hell, and a deleted scene from the lost world film affirms this, however Spielberg chose to leave the scene out of the final cut for the film so as to leave possible storylines for future films to take place on Isla Nublar. Also because he thought it would be too cruel on the fans to tell them that they're favourite dino park was obliterated, so he altered JP history...
Posted: Feb-24-2014 7:47 AM
well, if it's on isla nublar
then the dinos are probably the one that we see on the brochure but dont appear on the list like hererrasaurus, adult dilophosaurus, proceratosaurus, baryonix (wew), etc and maybe also those that were in the game like troodon and tylosaurus
damn I can't wait too see even the trailer of this movie XD